Module 1: Health Systems and Health Information Systems
| | | |
| --- | --- | --- |
| dc.contributor.author | MEASURE Evaluation | |
| dc.date.accessioned | 2020-09-07T20:14:26Z | |
| dc.date.available | 2020-09-07T20:14:26Z | |
| dc.identifier.uri | https://lib.digitalsquare.io/handle/123456789/77351 | |
| dc.language.iso | en_US | en_US |
| dc.title | Module 1: Health Systems and Health Information Systems | en_US |
| dc.type | Learning Object | en_US |
| dc.date.modified | 2017 | |

Files in this item
Name:

Module 1 Introduction to RHIS.pptx

Size:

641.5Kb

Format:

Microsoft PowerPoint 2007

Description:

Module 1 Introduction to RHIS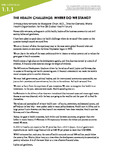 Name:

Handout 1.1.1 The Health Chall ...

Size:

569.6Kb

Format:

PDF

Description:

Handout 1.1.1 The Health Challenge
Name:

Handout 1.1.2 Matrix on Mngt ...

Size:

155.0Kb

Format:

Microsoft Word 2007

Description:

Handout 1.1.2 Matrix on Mngt ...
This item appears in the following Collection(s)
Routine Health Information Systems Curriculum [8]
To ensure the delivery of good-quality health services to the people who need them, the World Health Organization (WHO) promotes strengthening the six building blocks of a health system: (1) governance and policy; (2) service delivery; (3) human resources; (4) health commodities; (5) health financing; and (6) health information systems (HIS).